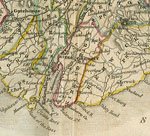 Click map to enlarge
Flickr Galleries
Street Scenes I


Street Scenes II


Kirkcudbright Mix


Our Fishing Fleet


MacLellan's Castle


Kirkcudbright Closes


Kirkcudbright Marina


Old Kirkcudbight

The Parish of Kirkcudbright.

Placenames
The placenames index for this parish is accessed via the menu on the left. Links from there open up access to various historical and modern maps indicating where the place is to be found as well as links to other historical information and photographs if we have them.
References
Extensive historical information, particularly in the form of scanned books, is becoming available on the Internet. In this section we have begun listing links to this information relative to this parish.
Old Postcards
Thanks to a Victorian hobby of collection topographical postcards many old views from within the parish are available today. This section contains an ever growing selection from those we have available.
Flickr Galleries
Below the map on the right of this page, there is a series of links to the Flickr website. Each link gives access to a gallery of images submitted to that website by members of the public on the specified place/topic relating to this parish. We are very grateful to the contributors of the images contained in the galleries for setting permissions for use in this way. They greatly compliment and enhance the content of our website.
---
Parish of Kirkcudbright. The parish of Kirkcudbright is roughly rectangular in shape and is approximately seven miles long by 3 ½ miles wide. Its western boundary is formed by the river Dee and its estuary, extending round the peninsula of St Mary's Isle and then southwards to Torrs Point. The north Irish Sea then forms the southern boundary. Part of the southern end of the parish is occupied by a training area for military and civilian purposes, more details of which are described as part of Rerrick parish. The area of the parish extends to approximately 12,325 acres, three-quarters of which consists of arable land and pasture over ground which though hilly, is generally green.
Employment in the landward area of the parish is almost entirely agricultural, and as in the rest of Galloway has been subject to many changes in recent years. Many farmhouses and steadings form attractive groups of traditional buildings which were once populated by farmers, dairymen, shepherds, stockmen and agricultural labourers. Today, the merging of farms to create larger units has resulted in redundant steadings and houses. Increased mechanisation has also brought about a sharp fall in the numbers of people involved in agriculture. Many former farm cottages have been sold as homes for retired people, whilst steadings have become complexes of holiday homes as farmers seek to diversify and find new sources of income.
The main settlement in the parish is the town of Kirkcudbright. A town since approximately 1200, and a Royal Burgh since 1455, Kirkcudbright is a place of unusual charm and antiquity. The County Town of Kirkcudbrightshire until the 1970s, Kirkcudbright is no longer a major local administrative centre, but has compensated for this loss of status by successfully marketing its charms as a tourist destination and generating its own industries.  It has for the last 50 years been developing its fishing industry and its fleet of from 12 to 14 trawlers has now established it as an important shellfish landing port. Some shellfish are exported to Europe, but the majority of the catches are processed in Kirkcudbright in large and modern plants employing significant numbers of people. Other industries have developed which support the fishing fleet, such as engineering, boatbuilding and repair, and there is also a large and successful pate manufacturer. The use of Kirkcudbright's harbour for leisure purposes has also increased substantially resulting in a total of over 4000 vessel movements per year.
The town's considerable reputation as an artists' community is being most successfully marketed and a number of small galleries and craft studios have recently been added to the range of traditional shops such as home bakers, fishmongers and butchers. Several very active groups of local people organize a   variety of events and entertainments throughout the summer months and these activities have proved so beneficial both to businesses and to community spirit, that they are gradually being extended into the winter months.
The recent loss of Milk Link's processing plant in Kirkcudbright's suburb of Mersecroft, technically in the parish of Twynholm, is a great loss to the town as it was a major employer for the town's people. The growth of tourism and the continued success of the fishing industry however have encouraged an air of optimism in Kirkcudbright, and there has been some expansion of the town in the form of a new housing development at its southern end.
David R. Collin 2010