The IGI lists the baptism, on 18th March 1849, of an Agnes Jane Anderson at Kirkpatrick Durham Parish, parents William Anderson and Jane Dixon. The 1851 census for Urr Parish lists Mrs Jane Anderson residing at Millhall. She has, living with her, a son William, aged 4 years, also born in Kirkpatrick Durham, and a daughter Agnes J, aged 2 years. Her husband, a ploughman, is working away from home in the nearby parish of Crossmichael. When young William Anderson reached adulthood he set off for a new life in America. This is his story.
William Anderson, born in Kirkpatrick Durham, farmer in Kane County, Illinois.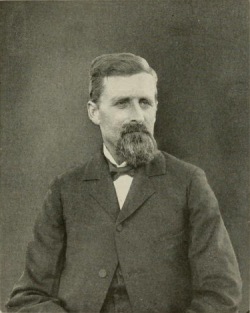 William Anderson, a successful farmer and dairyman of Kane county, was born near Kirkcudbright, in the southern part of Scotland, of the marriage of William and Jane (Dixon) Anderson. The father followed general agricultural pursuits as a life work. His family numbered two sons, namely: William, of this review; and James, who resides in Scotland.
William Anderson was educated in the public schools of his native land, and in 1872 crossed the Atlantic to America, locating in Chicago, where for one year he was engaged in stone work and assisted in rebuilding the metropolis after the great fire of 1871. In 1873 he came to Elgin and for the three succeeding years was employed as manager of the farm which was conducted in connection with the insane asylum. Subsequently he removed to Kendall county, where he was employed for two years, on the expiration of which period he returned to Elgin, being employed as a farm hand in Elgin township for one year and for a similar period in Dundee township. In 1881 he took up his abode in Dundee township and was there successfully engaged in the operation of rented land for seven years, when he purchased sixty acres of land in Elgin township, where he has since made his home. He afterward added twelve acres to the tract, has a nice residence and good barns and is also the owner of from thirty-five to forty cows. He is now conducting an extensive dairy business, employing several men to assist him, and is recognized as one of the successful dairy farmers of the county. It is a widely acknowledged fact that the Scotch are the most successful dairymen in the world and Mr. Anderson is no exception to this rule, his carefully conducted interests having gained him a creditable and gratifying measure of prosperity.
On the 4th of April, 1878, Mr. Anderson was united in marriage to Miss Emeline B. Redmond, a daughter of Thomas and Betsie (Thorn) Redmond, natives of Ireland and England, respectively. The parents came to this country when their daughter, Mrs. Anderson, was quite a little girl. Their family numbered eleven children, as follows: John, deceased; Charles, who has also passed away; Edward, formerly of Britt, Iowa, but now deceased; George, who lives in Whitewater, Wisconsin; Emily, the widow of W. A. Tanner; Emma J.; Emeline; D. I., of Kane county; Lavina; Orlando, who has departed this life; and Ida, the deceased wife of J. L. Fulton, of Whitewater, Wisconsin. Unto Mr. and Mrs. Anderson have been born two children: W. T., who wedded Mabel Kelly, a daughter of J. H. Kelly; and George E., who was united in marriage to Sadie Molton, daughter of Fred G. Molton.
The hope that led Mr. Anderson to leave his native land and seek a home in America has been more than realized. He found the opportunities he sought, — which, by the way, are always open to the ambitious, energetic man, — and making the best of these he has steadily worked his way upward. He possesses the resolution, perseverance and reliability so characteristic of his nation, and his name is now enrolled among the best citizens of Kane county.
---
External Links