This article on the Crawford family appeared in the book Leading events in Johnson County, Iowa, published in 1913.
Andrew McConchie Crawford, Creetown and Iowa
Andrew McConchie Crawford was born in Creetown, Scotland, May 11, 1838. He was the baby of the family when his parents, Hugh and Jeanette (McConchie) Crawford, left bonny Scotland for America. Fifteen years after their arrival the family decided to locate in Iowa, so in 1854 they landed in Johnson county. The father settled upon a farm in the bounds of what is now Lincoln township, and carried on agriculture until 1867, when he moved to Iowa City, spending the remainder of his life there. Andrew, in 1862, when twenty-four years of age, settled on a farm in Fremont township. In 1866 he removed to the farm, which has been his home ever since.
Six children were born to Hugh Crawford and Jeanette McConchie: Hugh, married, raised a family and lived until his death in 1907 on a farm in Johnson county; William, came to Johnson county with the family, was married here, moved to Cedar county in 1877, was a soldier of the Civil War in the Twenty-second Iowa from 1862 to 1865, died about 1900, and is buried at Lisbon, Iow ; our subject; Robert, died in 1856, aged fourteen; Margaret, married J. K. Corlett, of Iowa City, died in June, 1911; Jessie, who died in the spring of 1864, aged twelve years. Both Father and Mother Crawford are buried at Iowa City.
Andrew McConchie Crawford was married January 8, 1867, to Miss Jeanette Allison, a native of Ontario, Canada, in which province the marriage took place. They have four living children: William, married, residing in Lone Tree; Jessie, now Mrs. Horace Klotz, of Muscatine county; Thomas, married and living on a farm in Muscatine county; Walter, a retired farmer, married and living in Lone Tree. Mrs. Crawford died in May, 1909.
Mr. Crawford took for his second wife Mary Steel Russell, a native of Scotland, to whom he was married in March, 1911. Mr. Crawford has been a lifelong republican, and, as may be inferred, was born and raised a Presbyterian. He has always been identified with farm life. His home farm, which is one of the most beautiful in the county, he developed from raw, wild prairie. For years he has been an extensive importer of Clydesdale horses, and has all his life taken a great interest in the development of good stock, both cattle and horses. His latest importation of Clydesdales was in May, 1911. The public spirit of Mr. Crawford has led him to actively cooperate with every movement tending towards the public good.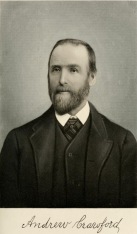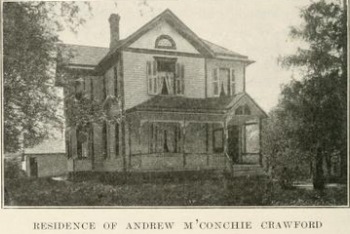 ---
External Links