Joseph Tait was the son of John Tait, master blacksmith, who lived at Lochpatrick Smithy, a mile outside the village of Kirkpatrick Durham. This passage is from "The Canadian Album: Men of Canada; or, Success by example &c" published in 1891.
Joseph Tait, of Kirkpatrick Durham and Toronto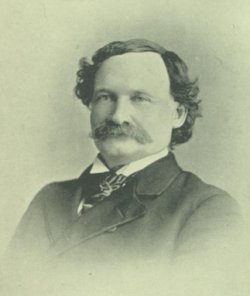 JOSEPH TAIT, Esq., M.P.P., Toronto, was born on October 21st, 1839, in Kirkcudbrightshire, Scotland. His father's name being John Tait, and his mother's maiden name Miss Williamson Clarke. Mr. Tait was educated in the parish school of Kirkpatrick Durham, Scotland, and afterwards served his apprenticeship to a baker and worked for a time in Edinburgh, and in 1871 came to the United States.
After remaining one year in Pennsylvania, he came to Canada and settled in Toronto, where he became manager of a baking establishment. Alter a time he bought out the business, and has since carried it on at the same place. He has been president of the Master Baker's Association for five years and is a member of the Methodist Church. He has been a local preacher for many years, and also a member of the last two General Conferences.
In 1889 he was elected to the City Council of Toronto as alderman for St. John's Ward, and in 1890 was elected representative for one of the divisions in Toronto to the Ontario Legislature. In politics, Mr. Tait is a pronounced Liberal, and a most effective speaker on the platform, rendering great service to his party whenever called upon in connection with Dominion and Provincial campaigns. He is a member of the A.O.U.W., of the Select Knights, a member of the Toronto Board of Trade, and a director of the Globe Printing Company. As a member of the Local Legislature of Toronto high expectations are formed of Mr. Tait's future career. Ready in debate, fearless in expression, and possessed of a large amount of practical knowledge and sterling common sense, he cannot be but of great service to the province.
Mr. Tait was married in 1863 to Miss Lizzie McKie of Dumfries, Scotland, who died in 1772. In 1876 he married his second wife – Miss Susie Stafford, of Eglinton, Ont. He has one son living John Williamson Tait by his first wife, who is engaged with him in the large and lucrative bisiness he has established.
---
Notes:
Joseph is listed, in the 1851 census, as 12 years of age, a scholar, living with his parents and siblings at Lochpatrick Smithy.
There is a family gravestone at Kirkpatrick Durham Churchyard
---
External Links